Speaking
A successful speech or presentation achieves its goal or objective.
Depending on your role, you will have different goals:
• Leaders speak to motivate, inspire or move to action.
• Experts speak to explain complex ideas so others can understand and act upon them.
• Selling creative ideas requires getting your audience to buy-in to your idea.
My seminars and coaching sessions are designed to help leaders,
experts and sellers of ideas achieve their communication goals.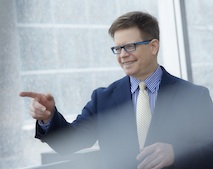 Communication is not a soft skill.
It's an essential business skill.
So let's get down to business.