Why do we tell stories? Why tell stories in a business setting?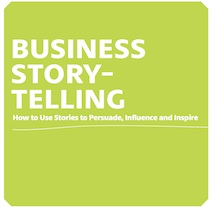 Storytelling is the single most effective way to persuade people to listen to and act on your ideas. Stories move, engage and inspire. They make you memorable. People will remember you and your stories, long after they have forgotten your presentation.
So if you want to influence others, fuel innovation and even drive change within your organization, you need to become a storyteller.
Together with Mariale Rodríguez, I am offering an exclusive two-day Business Storytelling workshop to help you learn how to create, develop and deliver high-impact stories, become a more effective and authentic speaker and presenter, and tap into the power of stories.
Drop us a note at business-storytelling@yahoo.de and we'll send you information on how to register to our interactive Business Storytelling workshop "How to Use Stories to Persuade, Influence and Inspire" in the Frankfurt area from October 9-10, 2015.
P.S. By the way, if you sign up by July 15, we'll give you a 15% early bird discount off the regular price!